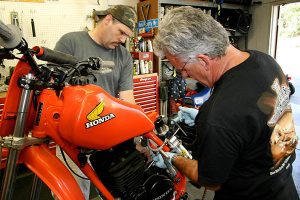 In the past thirty years, a Vintage Iron restoration has become the standard of the industry for one basic reason: Attention to detail.
Our approach is one of totality. We completely dismantle each machine down to the very last washer and during that process we clean, inspect and noodle over every part. We don't have a production line approach where the bikes are simply appliances and we don't do restorations as a hobby, a little here and a little there. We also tailor our restorations towards the intended use of the machine, be it racing or display only.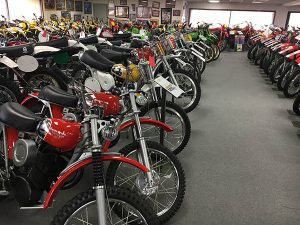 This is our profession and we are pretty darn good at it. What is more important to us is what our customers, concours judges and the press think of our work. Our restorations have graced Moto Armory, the world's largest dirt bike collection, the halls of New York's Guggenheim Museum, Mecum Auctions across the country, the Primm MX Collection, countless concours event, and many magazines around the world. What gives us the greatest sense of satisfaction is seeing our customer's faces, when the come to pick up their restored jewels.