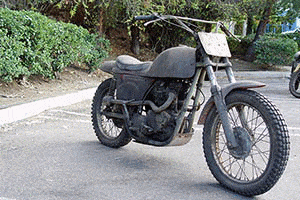 Our approach is one of totality. We completely dismantle each machine down to the very last washer. During that process we clean, inspect and noodle over every part. We don't have a production line approach where the bikes are simply appliances and we don't do restorations as a hobby. We also tailor our restorations towards the intended use of the machine, be it racing or display only. Get Free Restoration Estimate
This is our profession and we are pretty darn good at it. What is more important to us is what our customers, concours judges and the press think of our work.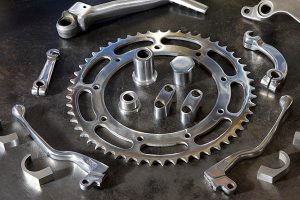 Our restorations have graced Moto Armory, the world's largest dirt bike collection, the halls of New York's Guggenheim Museum, Mecum Auctions across the country, the Primm MX Collection, countless concours event, and many magazines around the world. What gives us the greatest sense of satisfaction is seeing our customer's faces, when they come to pick up their restored jewels.
Restoration Services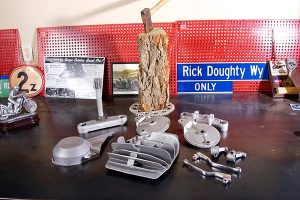 Do you have a bike you want us to restore? Simply email us the form found on this page and we will gladly review it and discuss the project with you. We have restored everything from AJS to Zundapps, and virtually everything in between, but it always helps the discussion to see what we are starting with.
We are not the cheapest restoration company, nor the most expensive. Our value is in the 30 years of experience we have under our belt and the quality we have mastered over that time. Our pricing structure has remained fairly constant during that time and our restoration studios have completed over 600 motorcycles, including motocross, street, ISDT, road/cafe racing machines. We do all brands, all the time and as a result, we have a very steady flow of work. Does that mean you will have to wait in line for years? Absolutely not. We are expeditious about our work. We start the job and stay on it until it is done.Average project duration is 1-2 months.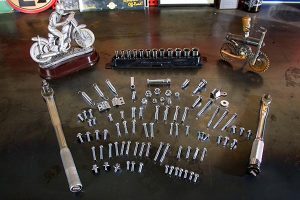 Average total restoration details:
Labor – 100 hours X $50. per hour = $5000.00
Average parts included $1800.00 – $2500.00
Outside Services (See four P's) $1000.00
Average Restoration cost $8K-$10K
* Four P's – Powder coating, Painting, Polishing and Plating (zinc and chrome)
Four strokes, street bikes and custom projects have higher average costs.
Partial Restoration Service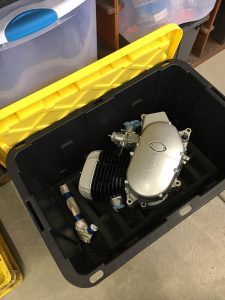 Like to work on your own bikes but want some help? We will also do parts of your restoration like engine rebuilding, suspension, wheel lacing, seat restoration, metal polishing, painting etc…Whatever you don't want to do or can't do, we will. We promise not to tell anyone that we helped.
What won't we do?
A half-assed job. If it is going to be a Vintage Iron restoration, it is going to be done complete and done right. There are plenty of other guys out there willing to do the cosmetic make overs that look great on ebay, but not so great when they show up at your house. We'll leave the "rattle can restos" to them.
Transportation
We can help you with interstate transportation to and from our facilities. No crating required. Just ask.
If you are in the Southern California area, we also offer a pick up and delivery valet service to and from your home or office. Doesn't get much easier than that!