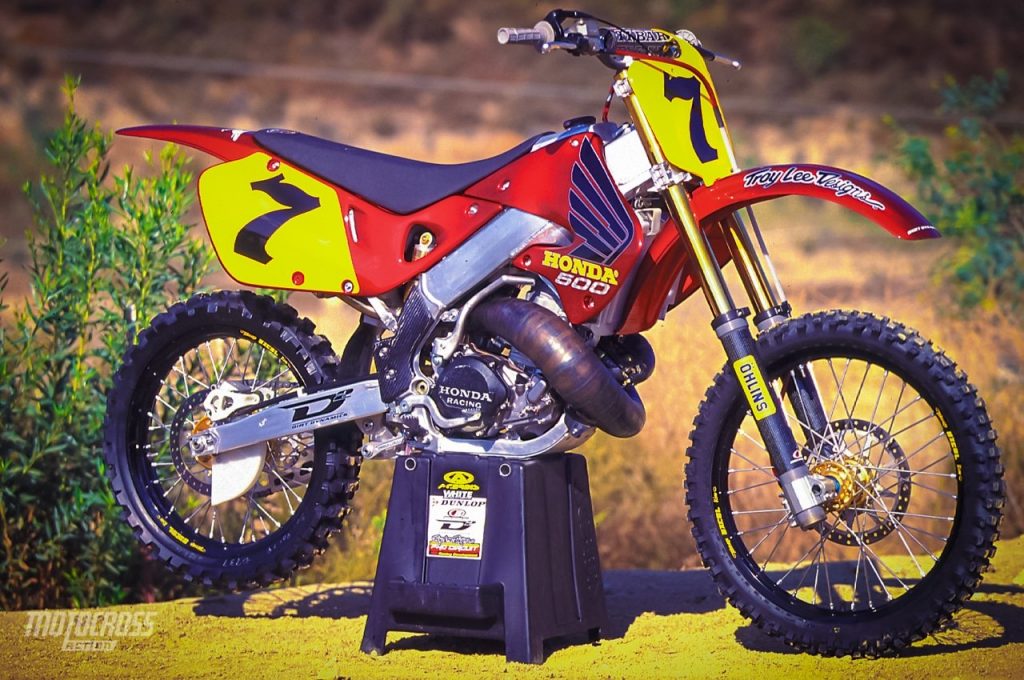 The last time Honda put any serious thought into the CR500 George Bush was President. True, they have continued to produce the behemoth, but the only updates it gets are based on the economy of scale (it gets the suspension components, hubs and brakes that are used on the high volume CR250).
Why hasn't there been a new CR500 in all these years? If you ask Honda, they will tell you that they don't sell enough Open class motocross bikes to justify the development costs. Why don't they sell enough? They claim that the Open bike has gone out of fashion. We don't doubt it when the newest model you can get is eight years old.
What if Honda built a modern CR500? A bike with all the bells and whistles of the 1999 CR250: alloy frame, sleek ergonomics, high-tech looks and modern accouterments. What if pigs could fly?
MEET THE 1999 HONDA CR500
We hate to burst your bubble, but Honda isn't going to build a new production CR500. If anything, they will let the existing model dribble down to the dregs and then drop it (replacing it with a four-stroke). However, there are a small number of aluminum-framed CR500's in existence, each built by small cadres of tuners hoping to maximize the Open bike's potential. Mickey Kessler was the first to try to graft the beast into the alloy package. Eyvind Boyesen transplanted the CR500 engine into a Boyesen Link Suzuki frame for his son Dag to race in the 500 GP's. Team Honda spent its summer making a special one-off CR250/CR500 mutant for Stefan Everts to race at the Belgian 500 GP (which he won). And, as the ultimate expression of Open class devotion, motorcycle collector and raconteur Greg Primm commissioned Rick Doughty's Dirt Dynamics to develop the CR500 that should have been.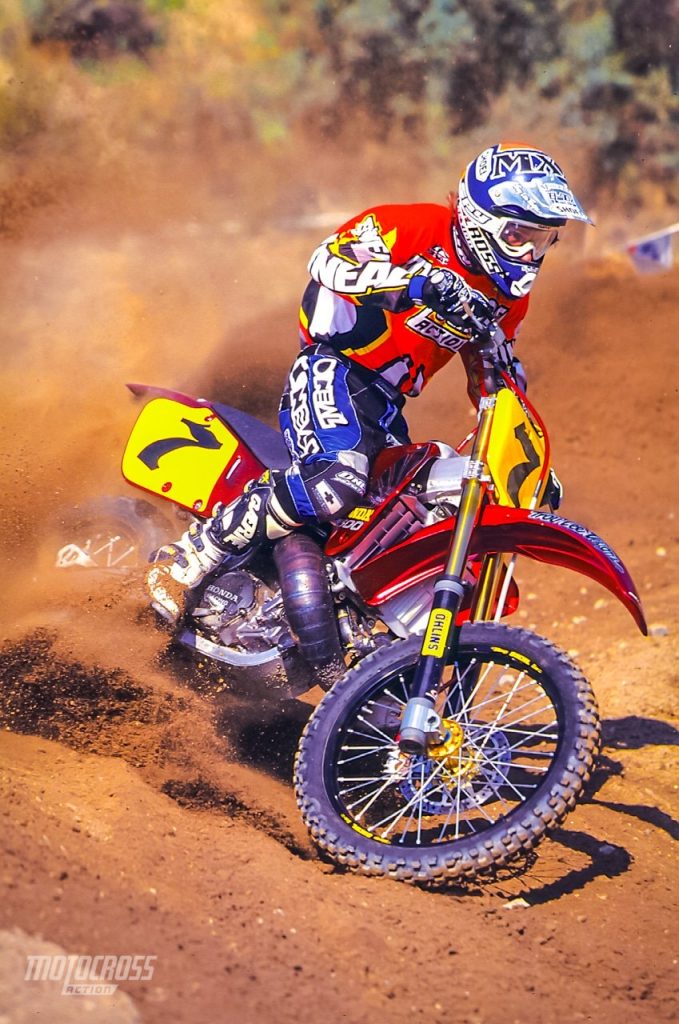 The Primm/Doughty project was a top drawer all the way. Rather than buy a CR250 and CR500 and crossbreed the parts, Dirt Dynamics started with a parts list and ordered each component separately. If you've ever considered building a bike from the parts book, don't – the cost is exorbitant. But for a work of art, it is the only way to go. It allowed parts to be selected by virtue as opposed to accessibility. As each part was chosen, the cost of building the one-off skyrocketed to $30,000. Was it worth it? You be the judge.
FROM THE GROUND UP
Dirt Dynamics started with a bike stand. There was no bike to put on it–just a collection of wishes, hopes and dreams. They ordered the first batch of parts (CR250 frame, swingarm, bearings, brakes and races) and assembled them in the stand. Then, they fleshed out the skeleton. Surprisingly, the CR500 engine dropped right into the Delta Box frame as if it had been made for it. "A piece of cake," thought Doughty and his Dirt Dynamics workforce. Wrong! Once motor mounts had been fabricated to clamp the big Honda mill into the alloy chassis, it became evident that nothing else would fit inside the cramped confines of the rectangular extrusions. That included the gas tank, radiator hoses, exhaust pipe, ignition, head stays, brake reservoir, carb and airbox.
The moment the engine dropped in, the project went from bolt-on to hand-made. The process was tedious and time-consuming, but with the help of a host of outside sources, it gradually came together. Pro Circuit built a hand-made cone pipe (with the same dimensions they used when they built pipes for Team Honda's CR500's). Pro Circuit also built the shock linkage, silencer and titanium footpegs. Ohlins was tapped as the suspension supplier. The Ohlins shock and fork were tuned by former Grand Prix racer Stig Pettersson of Pettersson Pro Suspension (PPS). The forks were ultra-exotic. The 50mm conventional forks cost $7000 and came directly out of Ohlins' special GP stock (only six sets of these forks were made in '98).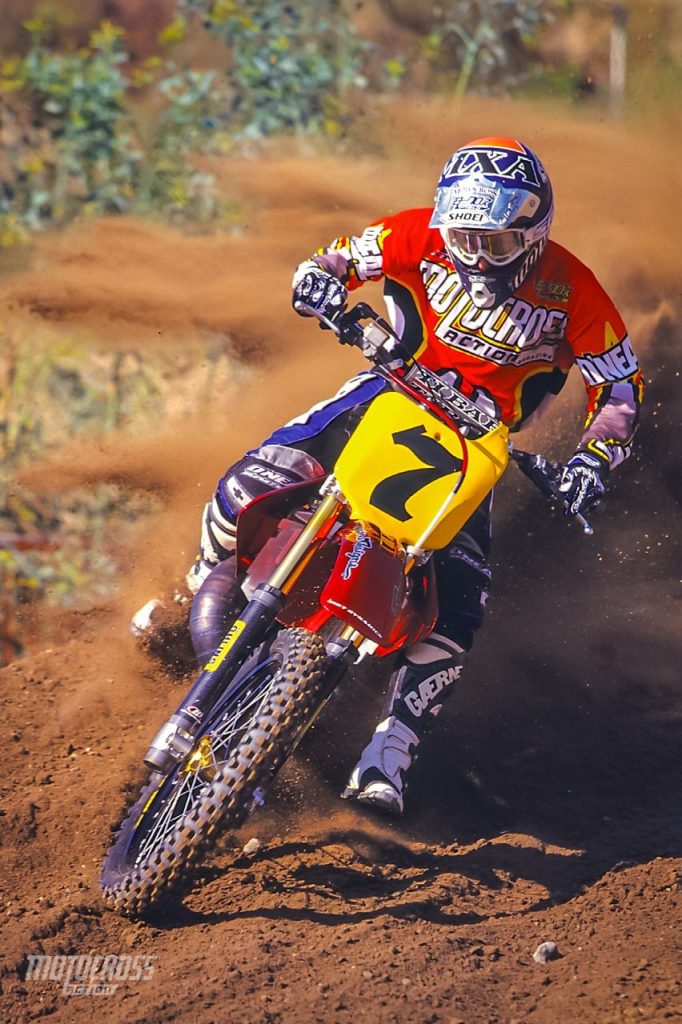 Black Takasago Excel rims were laced to gold anodized Talon hubs with spline drive nipples and Buchanan spokes. Braking oversized rotors were attached to the wheels to provide pucker power (via Fastline hydraulic brake lines and stock Nissan calipers).
The pilot's cockpit was outfitted with titanium handlebars (White Bros.), Gripper seat cover (MXA), billet clutch lever (Works Connection), soft half waffle grips (Renthal) and carbon fiber frame guards (Berg racing). Troy Lee Designs applied a deep, candy apple red color over Acerbis Ghost plastic to give the bike a lustrous glow. Troy also designed special CR500 graphics and racing numbers.
The engine is highlighted by sand-cast Honda racing ignition and clutch covers (which house a Hinson clutch and a programmable Vertex ignition). Dirt Dynamics modified the cylinder and head to work with a 39mm Keihin Air Striker carburetor.
And, most significantly, a hand-made aluminum gas tank was crafted to meet the demands of CR500 engine.
WHAT'S THE FREQUENCY KENNETH?
After several months of development, Dirt Dynamics called the MXA wrecking crew and asked us to take the maiden voyage on the ultimate CR500. We were glad to oblige, but we must confess that our three-race test session wasn't without peril.
Test one: At the first race, the bike ran beautifully – for four laps. Somewhere between lap four and five, the Vertex ignition decided to melt. Even though the bike went off-song, it was still a CR500 (which meant that it was plenty powerful even when raspy). However, both fork seals blew a few seconds later, slathering the brakes, bike and rider with a mist of expensive Swedish fork oil.
Test two: At the second test, the Vertex problem had not been solved. Riding time was limited to coasting down Glen Helen's downhill trying to get the big CR500 to light up. We suggested that perhaps the CR500 engine was bulletproof in stock trim and really didn't benefit from Italian electronics (Would you buy an Italian computer?).
Test three: At the third test, everything was finalized. With new fork seals (Fed-Ex'ed from Stockholm), stock CR ignition and the bike having been stripped down to the frame and rebuilt, it worked flawlessly.
WHAT'S IT LIKE TO RIDE THE 500 BEAST?
Awesome! No kidding! Imagine a CR500 that can turn on a dime (the Dirt Dynamics CR500 turns sharper than most 250s), vibrates less than a CR250 (weird harmonics in the aluminum CR chassis prefer the 500 vibe to the 250's pulse) and has enough power to scare the riders next to you (when Team Honda raced CR500's they detuned the engine to tone down the power).
This is a man's machine. Although it requires less strength to ride than a stock-framed CR500, it still demands your attention. There is so much power on hand that you don't ever use it to its fullest. We started in third gear, did straights in third and handled most corners in third. We saved fourth gear for scaring ourselves and second gear for exiting the track. Yes, Virginia, there is a fifth gear, but we don't know why.
In motion, the sensation of power never went away. A small blip of the throttle resulted in a massive rush forward. Chopping the throttle would not always result in instant deceleration. All CR500's are momentum machines, but the Dirt Dynamics version has one plus that no other Open bike has — it can maximize its velocity by hitting the same line lap after lap. It is the most accurate, precise and predictable Open bike we've ever ridden. The abundance of power couldn't over-ride the alloy CR250 chassis — instead, it pinned it to the ground and made it work. All that Delta-Box rigidity finally had something worthy to work with.
The bike was an eye-opener. It proved that Open class bikes could still be competitive if only their development hadn't stopped the year the Dow Jones reached a record high of 2791, Rain Man won an Oscar and Pete Rose was banned from baseball.